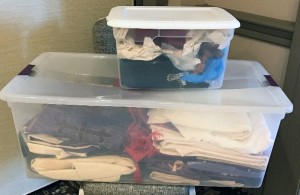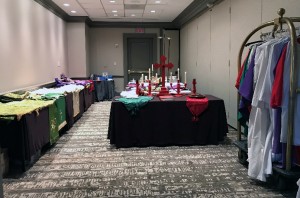 We are commanded to walk in love. If you had attended the Diocese of Virginia Altar Guild Swap Meet January 26-28, you would have seen love in action. You would have seen over 20 churches bring items to be swapped. You would have seen a tall priest bring an arm full of stoles and, less than an hour later, seen another tall priest come in looking for a purple stole. You would have seen a young priest in need of vestments be moved to tears when she was told that she could take whatever she could use. When people hesitated to take things, you would have heard someone say, "These are the gifts of God for the people of God. Take them." You would have seen volunteers lovingly and patiently sorting, folding, and refolding. You would have watched a priest walk around the room, gently touching things, and whispering, "Thanks be to God."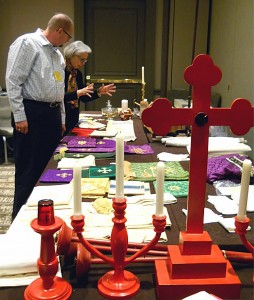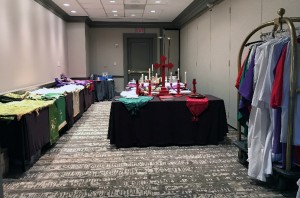 To the churches that donated, bless you for your kindness and generosity. For the recipients of those donations, thank you for using these gifts. To the dedicated volunteers -— Candy Burt (St. Francis, Great Falls), Page Hunt (Grace, Kilmarnock), Lucy Lee Reed (Grace, Alexandria), and Rebecca Sonnenfeld (Epiphany, Oak Hill) — you showed God's grace in all that you did. Thank you. Remaining items are available for Mission teams to take on Mission trips.
In addition to the Swap Meet, we held an an altar guild conversation time where altar guild members from different churches could share ideas. There was also an example of a "Eucharist to Go" kit, and Aquia Church shared instructions for their beeswax angels.
For more information about having a swap meet in your diocese, contact Sharon Nachman.
Sharon Nachman, Province III representative