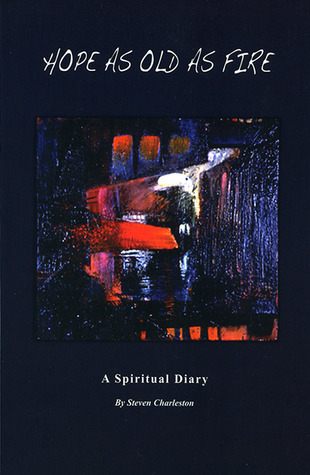 Those of you who know of the ministry of the Rt. Rev. Steven Charleston will be pleased to learn of his spiritual diary Hope as Old as Fire, a compilation of meditations first posted for a year on Facebook before being published in this lovely volume (cover art by Suzanne Charleston).
Mary Lu Jarvis, former president of the National Altar Guild Association, sent this book to me while I was still in disbelief over the death of my daughter. I immediately turned to the entry that was written on one of those awful days when Dana lay in intensive care hooked up to life support:
"I live a borrowed life on loan from God…The One who loaned me this life will not forget. God will come to claim it, calling me by name, a borrowed life returned, redeemed by endless love."
Through my tears, I searched for the entry on her birthday:
"I do not live the saintly life, far removed from mundane matters, but dwell down here with the dirty dishes…monthly bills, sneezing kids….I need help in my chore-filled life, grace my routine to renew, a God who always stays late, to help on the clean-up crew."
Obviously, this book had been written for my own particular comfort, so I immediately searched out all the entries for dates of my other loved ones: my mother, two ex-husbands, my son, my brothers. Grandchildren who were near me had to read their entries aloud; others away got my phone calls and had to listen as I read to them, or received e-mails with significant entries copied.
I didn't stop there, but hurried on to my friends and their significant entries. I laughed aloud at the entry of the May 1 ordination date, so many years ago, of my former bishop the Rt. Rev. Duncan M. Gray, Jr. (and former chaplain to the National Altar Guild Board), a date I had just learned:
"I speak a word of respect to those who strive for justice, who still believe in what is right and true and good and work to make it happen….Thank you for confronting power to witness to what makes us free."
(This entry coming on the heels of the publication of a second book on Bishop Gray's work during the Civil Rights movement).
Thus I gobbled my way through Bishop Charleston's very fine book, barely stopping for breath, so grateful for another instance of God's grace and comfort.
Only later did I turn to the first page to begin reading and found that Bishop Charleston awakes every morning at 4:00 a.m. for meditation and prayer. That he would not be surprised at the readers who read through his book as I did, grasping — no, gasping — for entries most significant to where the reader was at that moment, and that we would finally settle down to quiet reading and contemplation of each meditation, helped by the index in the back that gives further meaning to why it was written.
No one handles the language as beautifully as Bishop Charleston. He is a pleasure to read; a pleasure to hear, as all can attest who heard his keynote address to the National Altar Guild Association, during the 2006 General Convention in Columbus, Ohio.
He said then that we as altar guild workers "prepare for the Eucharist in the crossfire of the church….We have to stand firm in the chaos of race, injustice, war, sex, poverty; we have to be in the crossfire and not build forts around ourselves, not seek boxes of safety with people of our own kind. We have to keep arguing….to build understanding…."
There is something rich in knowing that we are prayed for collectively each morning by this bishop. He knows who we are. We would do well to pray one of his prayers with him each morning, as well:
"God bless the church; our traveling tribe, out motley crew, caravan of the conflicted and courageous, stumbling toward paradise, the hurt and the hopeful, wounded healers, singing along the way….your quarreling brood, your stubborn flock, your love living for love, your dream of what might be."
Buy this book. Find a blessing on every page.
Reviewed by Polly Marshall