Diocese of South Carolina
As Episcopal parishes elsewhere in the nation prepared for the 2012 Advent season, those living in the Diocese of South Carolina were presented with an unwanted challenge when their Diocesan Bishop and standing committee declared that ties with the Episcopal Church had been severed.
Being longtime members of both the Province IV Altar Guild and the National Altar Guild Association, Frances Elmore and Dolores Miller of Florence, SC have sat through their share of workshops about natural disasters and the damages they cause to churches and their sacristies. But what if the disaster is man made? No piles of storm-tossed linens, no dented or missing silver vessels, just nothing… nothing at all with which to prepare a liturgical church altar for a communion service.
That was the dilemma facing the hastily formed Continuing Episcopalians in the Florence Deanery (EFD) shortly before Christmas. Unwilling to impose further on the hospitality of Cross and Crown Lutheran Church, Florence by asking to use their equipment or supplies, it was agreed that EFD would simply have to do its best.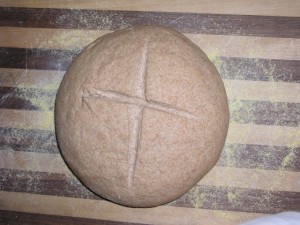 First to volunteer help was a lady who offered to bake her first Eucharistic bread (unleavened and scored with the sign of the cross). Then, a housewife came up with a treasured family heirloom, an engraved silver goblet…and there was a chalice (footed cup used at the altar to hold the elements of water and wine for consecration and communion). Another trip to her storage closet produced a silver bread and butter plate, ideal as a paten (small plate matching the chalice, upon which the priest's wafer or Eucharistic bread is placed). A young married couple offered to donate the wine (identified as Christ's blood of the new covenant in the institution narrative).
Meanwhile, at the Elmore-Miller household, dainty, bridge-size, linen napkins were rinsed in icy water, ironed and finger folded into small purificators (used in medieval days to strain insects or bits of cork out of the wine and, in modern times, to wipe the chalice rim). Dinner-size linen napkins received similar treatment and became corporals (a 9-fold square designed to protect fair linen and to catch any consecrated particles or drops of wine which may fall) and a lavabo towel (a 6-fold rectangle used in ceremonial cleansing of the priest's hands). Two antique, cut-glass perfume bottles became cruets (to hold the wine and water before their consecration).
Then, the impossible happened. From an Episcopal Church support group in Fort Worth, TX, arrived a lovely Normandy silk damask burse (a case placed on top of the veiled chalice to hold extra purificators) and a matching veil (matches the vestments worn by the celebrant and is a covering for communion vessels) in the appropriate purple for Advent, which blended well with the Lutherans' luxurious navy hangings, also a liturgical choice of color for Advent.
With all things in place on the credence table (small shelf or table at the side of the altar) and altar (focal point of Eucharistic celebration), EFD's first Holy Eucharist as a group unfolded under the guidance of a supply priest from a small parish in another deanery. And, with glorious music provided by a professional organist and the soaring soprano voice of a talented young volunteer, it was a service to remember.
Dolores J. Miller