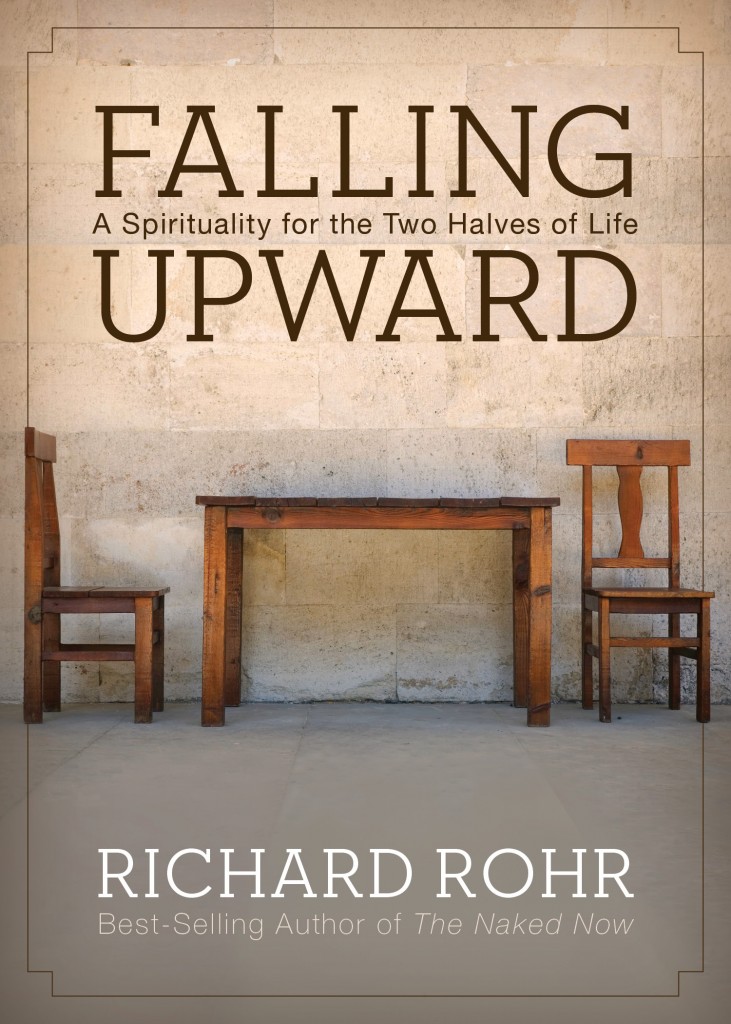 For those of us feeling the pinch of years, we can thank Richard Rohr for his insightful book Falling Upward: A Spirituality for the Two Halves of Life. Father Rohr, a Franciscan priest, is the founder and director of the Center for Action and Contemplation in New Mexico.
Weaving literature and experience, Father Rohr shows how, through the ages, the search for meaning has been a constant, and that only through struggle is a transformation achieved; that those of us who face doubt and despair are the lucky ones for in that facing comes peace. Paula d Arcy's "God comes to you disguised as your life" is only one of the thought-provoking gems that Father Rohr places in our path. Each chapter is headed with epigrams for contemplation.
Carl Jung asserts that "One cannot live the afternoon of life according to the program of life's morning for what was great in the morning will be of little importance in the evening and what in the morning was true will at evening have become a lie." Thus Father Rohr's belief that in the first half of life we are to create the container; the second half to fill it with soul discoveries, all this an easier task to accomplish if we remember that God is the potter, we are the clay.
What Rohr calls "soul discovery" we come to by different means. Suffering seems to be the traditional way. Obviously for the reader, that discovery is easily found through myths and legends, literature both biblical and secular, classical through modern, and across all cultures for these are the things we have at hand…along with a contemplative mind, which most readers have or we wouldn't find such delight in what can be a mostly solitary undertaking.
Father Rohr explains examples from Odysseus and his adventure-laden journey with its ultimate longing for home, through Wordsworth's and his soul's star (Plato inspired), along with samples from modern poetry to account for our longings…our search throughout life for an end to our homesickness "for God who is our home."
That our mature years are less strenuous than the first half of our life can be accounted for by a certain contentment that is achieved by aging…that we don't have to always be right, always win every battle fought, or alas, win every one we start by our need to compete. That we can let go of our view of the tragic sense of life or even of the idealistic sense of life and just accept that life is. We have learned, Father Rohr says, that "the Eight Beatitudes speak to you more than the Ten Commandments."
Indeed, chapter 10, "A Bright Sadness," speaks as if someone has been looking in on our lives and planned our last act as one of contentment, a contentment brought on by the earned ability to contemplate what all has been. And one of the contemplative blessings is our ability to learn from what we used to exclude. Father Rohr points out that "Jesus was a second-half-of-life man teaching a first-half-of- life history, church and culture." Now in our second half, we understand "why Jesus is always welcoming the outsider, the foreigner, the sinner, the wounded one."
That we have reached this place speaks of wisdom hard earned on our journey: to be whole, we must see and create wholeness: "split people see and create splits in everything and everybody." Father Rohr says that we get to the whole by falling down into the messy parts…where we long and thirst for the wholeness and fullness of all things, including ourselves…the only and lasting meaning of up."
As I read this book, my mind kept turning to Rabbi Ben Ezra, Robert Browning's lovely poem.
Grow old along with me!
The best is yet to be,
The last of life for which the first was made!
Our times are in His hands
Who saith,
'
A whole I planned,
Youth shows but half; trust God, see all, nor be afraid!
'   Richard Rohr's
Falling Upward
will speak to you on many levels and deserves a place on your night stand.
Reviewed by Polly Marshall