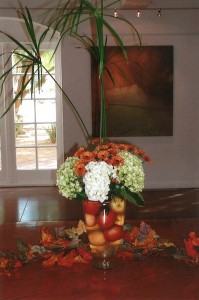 Hopefully, this brief step-by-step description of one of our most successful arrangements will be easy to do and excite your imagination with all the variations you can use to adapt it to your environment.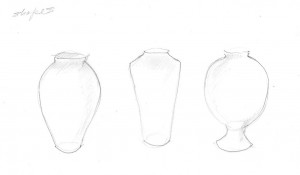 Your first consideration is the scale of your arrangement in relation to your worship space. It needs not to be too large so as to obstruct the altar, or too small so as not to be noticed. For our arrangement we used a glass ginger jar.

1. First fill the vase with 10-12 apples all the same color.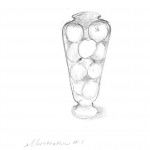 In fact, you may use any thick-skinned fruit: oranges, lemons, limes, small pumpkins. Let the colors of the season be your guide. The fruit should be close enough together to provide support for flower stems. Now fill vase to the top with water. The fruit will float a bit but once stems go in they will stabilize. You can add several Pittosporum branches across the opening to keep the fruit down and provide more structure for the flowers.
2. Next, add the focus flowers. 

In our arrangement, we used green and light blue hydrangea and orange mums. For impact, keep the variety of flowers to two or three. Your color selection should set up a contrast. A list of suggested combinations follows but feel free to let your imagination flow;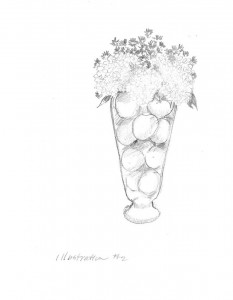 ~ lime green button mums and rust colored mums or roses
~ yellow mums and pink gerberas or roses
~ Queen Anne's Lace and red tulips
Play with the possibilities that suit your season and occasion.
3. Now add the drama and height. 

We added Papyrus but think about other possibilities here too. Why not use Larkspur, Bells of Ireland, Forsythia, Agapanthus, Pussy Willows, even blooming branches. Don't use too many — three to five may give the drama you need.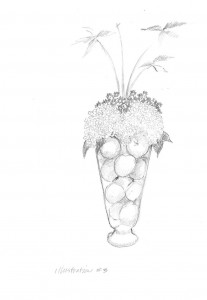 We have used this same arrangement in many floral combinations for services or receptions and we have always received compliments. Enjoy!
Deborah Beresford and Frances Hammond, Trinity Cathedral Floral Guild, Phoenix, AZ