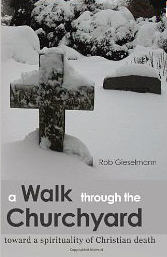 Rob Gieselmann practiced law from 1987 until he was ordained by the Episcopal Church in 1999. Since then he has served as a parish priest in Maryland, Tennessee, and California. He begins and ends his book with two dreams, which is to say that this book is deeply personal and not a detached treatment about death. The first dream was one about his father 23 years after he had died when Gieselmann was a teenager. The second dream that concludes the book is about his wife Laura, who died from complications after surgery in 2003 after ten years of marriage. He was 43.
The lessons shared in this book were forged in the fires of the "pure pain" of grief following his wife's death. "It wouldn't be so hard if it hadn't been so good." Gieselmann also shares first hand stories about other deaths he has been privileged to share in the course of his ministry as a priest. The basic takeaway? "People don't just leave when they die; they don't leave at all." That's because in some mysterious way God in Christ "conquered death and brought life and immortality to light through the gospel" (2 Timothy 1:10). Gieselmann's book reminded me of similar memoirs of grief by C.S. Lewis (A Grief Observed) and Nicholas Wolterstorff (Lament for a Son). It's a good resource for people who are experiencing the dark valley of the shadow of death.
Rob Gieselman is rector of St. Stephen's Episcopal Church, Belvedere, CA.
reviewed by Journey with Jesus webzine, www.journeywithjesus.net, with founder Dan Clendenin's permission