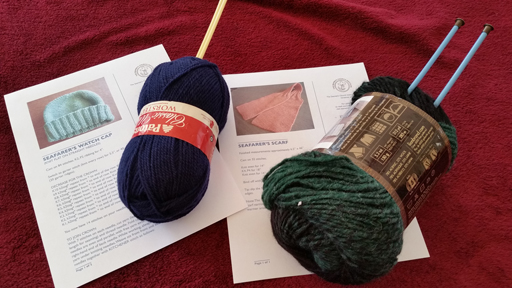 Imagine how it would be to find yourself on a barge or a freighter on Christmas morning without your family and the joy of opening gifts. The Seamens' Church Institute is an ecumenical nonprofit organization that was founded in 1834 to improve the lives of merchant mariners in the port of New York. Through the years they have provided educational, legal and humane assistance to seaman in ports around the world.
• In 1898 the Chaplain's wife started making "comfort bags" holding medical supplies, prayer books and sewing materials.
• Following WWI, projects grew to include sweaters, hairbrushes and writing materials.
• By 1942 there was a massive effort to distribute knit items and Christmas boxes to seafarers at war.
• In 1951 the Knitters Guild at the Seamens' Church Institute was formed and the Christmas at Sea program was established.
Each year in August, Christmas at Sea volunteers gather at the Institute's headquarters to pack small duffle bags for those who will be on the water on Christmas. Included are hats, scarves, sox and vests knitted by volunteers across the country, as well as paperback books, candy and personal items, all accompanied by good wishes and thanks for their service.
A board member of NAGA introduced this project to us and it was adopted as one of our many programs. Patterns and instructions are available at the Institute and all knitters are welcomed. For patterns and to read more about Seamens' Church Institute visit seamenschurch.org.
May Sherrod