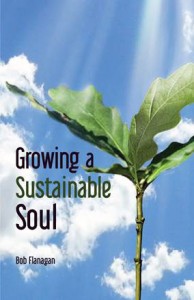 Who has not experienced a deep nurturing of his or her spirit by an interaction with nature, awed at the beauty or drama of lightning and thunder, and recognized the glory and power of God?
In Growing a Sustainable Soul, Bob Flanagan, Episcopal priest, shows how nature is a teacher in our growth process, inspiring our very being. Flanagan reflects on selected Bible verses, and uses them to remind the reader of the interconnection between spirituality and nature. The author notes that, as we are spiritually and physically sustained by the earth, we have the moral responsibility to sustain it. Flanagan states, "we cannot love God without respecting creation" (p. 37) and "we cannot value creation unless we take time to care for it" (p. 65). Flanagan emphasizes man's responsibility in caring for that same nature that gives us beauty, bounty and comfort. The book largely is a reminder of the need for ecological care and concern, but it also addresses the nurturing of the soul in the process of that care.
The book is designed to be read one section at a time, then contemplated and acted upon. In his 41 brief reflections, each based on a Bible verse, he challenges the reader to think how his personal actions or inactions in everyday living impact the earth. After each of his written reflections, there is a space for the reader to respond with his own thoughts. Also, often there is a suggested activity for the reader.
Growing A Sustainable Soul is friendly, easy-to-read, and thought provoking. It clearly challenges the reader to care for God's creations — the planet and our inner beings.
Reviewed by Joyce Sanders