It was with great anticipation and a bit of anxiety that I arrived in Austin Friday morning to attend my first Episcopal Convention. I am here as a part of the National Altar Guild Association. Within an hour of my arrival, I coincidentally crossed paths with my rector, The Rev. Kim Seidman, and then a short time later, with Bishop Rob. (With more than 5,000 Episcopalians running around town, that was pretty amazing.) Suddenly I felt right at home.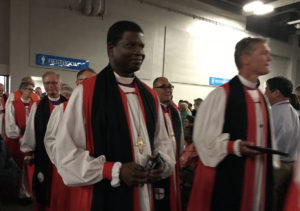 The first Eucharist I attended included the procession of all the bishops in full dress. To see bishops representing so many geographical areas in one place, at one time, in all their glory, was a powerful sight to behold. Then voices were raised in song for the processional hymn. The sound was so rich and awesome, with nothing being held back, that to me it sounded rather celestial.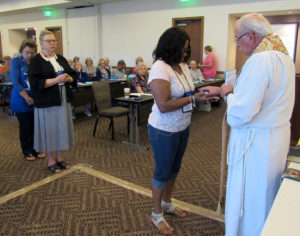 Day two began with private Eucharist for the altar guild. Our chaplain, The Rev. Bill King, reminded us that we lovingly care for ordinary things so that they can become extraordinary. Then received the "blessing of the hands." As we chanted "Jesus, remember me when you come into your kingdom," each of the 58 present had our hands individually blessed for service. It was one of the most moving services I have ever experienced; what we do as the altar guild is not just mechanical and physical, but very spiritual and truly meaningful, and that we are serving Jesus by creating a welcome at the altar for His people.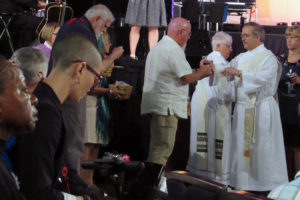 With Sunday morning came my first turn to assist with preparing Eucharist at Convention. This process is an incredibly well-oiled machine, thanks to Alice Scarbrough, head of the convention altar guild. Everything is large scale compared with what I'm used to. Nine Eucharist stations are manned by a deacon, two bread servers, four chalice ministers, and assisted by two altar guild members. 3,500 to 5,000 can be communed in 12-20 minutes. Pretty amazing! It makes me wonder what it was like when Jesus fed the 5,000.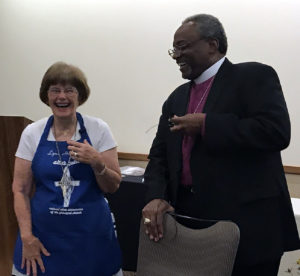 On Monday we were fortunate to have Presiding Bishop Curry speak to our small group (read his speech here). He told us that "the ministry that you do helps the people of God to worship God and to be recentered on God and Jesus Christ. The ministry of the altar guild is right there at the point of intersectionbetween God and following Jesus in the world. What you do for God matters, it matters profoundly." What more could we hope for than validation from our Presiding Bishop that the work we do is so important?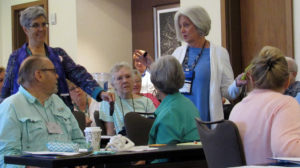 Also on Monday, our keynote speaker, Demi Prentiss, likened the Church to a base camp below Mount Everest. We can't just sit there and wait for things to happen. We must equip ourselves and go out into the world in witness of our Lord and Savior, Jesus Christ (read her keynote here).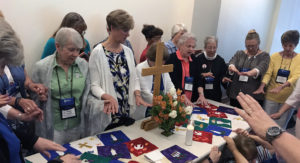 Tuesday gave me the opportunity to attend a wide variety of fabulous workshops, from radical sending to flower and palm arranging, to liturgical fabric arts, to the rubrics of the Book of Common Prayer and a study of the Book of Occasional Services.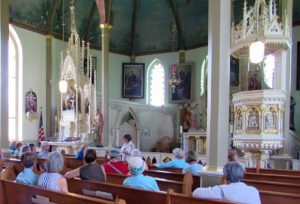 On Wednesday, we were fortunate to enjoy a day-long tour of the painted churches of Texas. The artwork in each of the churches we toured was outstanding! (read about our tour here.)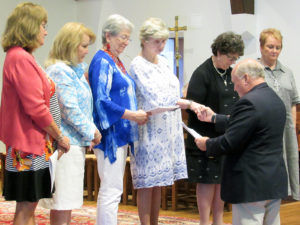 With Thursday, the group's final morning together, came Eucharist and the installation of officers at Good Shepherd Episcopal Church, followed by a lovely luncheon provided by St. Brigid's Guild. During the installation of officers, it was very moving to watch Lynn remove the President's cross from around her neck and place it on Dianne's, and then for Dianne to present Lynn with the Past President's cross. I had only known these ladies for a few days, but had developed a true affection for them and appreciation for the work they do for NAGA.
The most enjoyable part of my time here has been meeting other altar guild women and men from around the country and the sharing of ideas. It's been a wonderful opportunity to learn from altar guilds of varying sizes of parishes, different styles, and different regions of the country.
Look out, Holy Comforter, Broomfield — I am coming home with a notebook full of ideas!
Deborah (Debbie) Mead, Diocese of Colorado, Holy Comforter, Broomfield, Colorado