Where do we go from here? Over the decades, vestments have been at the whim of fad and fashion as changes in shape and decoration conform to liturgy's ritual or clergy's personal preference. We have discussed this evolution over time, from the "street clothes" of early Christians to the present.* Basic vestments have a long history: chasuble, stole, alb (once an undergarment, now restyled to be an outer robe), cassock, tippet, cincture, surplice. A recent inquiry of local Episcopal priests indicates these are typical in some combinations.
Where are we going? If you are purchasing new vestments, it is possible to duplicate your current ones through Almy, Gaspard, and Watts. Damasks, brocades, and fringe in traditional patterns are still available. Doing so is tried-and-true. Yet, increasingly, clergy want their own vestments, no longer wishing to be a matched set with the paraments. Individual expression of their understanding of the ritual and personal mission has allowed vestments to have a more personal component.
Where do we find these? There are artists, embroiderers, and sewing experts to be found online, in your congregation, or at the 'shops' of denominational gatherings. Painting, marbling, Seminole patchwork, cross stitch inserts, crewel and gold work are all possibilities. Today's liturgical textile artists use a variety of fabrics, dyes, needlework, quilting, applique, painting, and freer designs. They are exploring the color usage in the early and medieval churches to bring color back to our liturgical year (Sarum blue for Advent, wheat color for Lent). You can now find rolled collars on chasubles and actual hoods on copes. Hand-crocheted rope cinctures have become popular.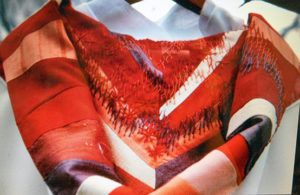 What is trending? The chasuble might no longer a full circle, but a narrower shape with a straight horizontal bottom hem. Stoles are completely decorated or with the symbol visible at chest height. Depending on the shape of the back of the stole, another symbol may be found there. Often there is no fringe, but the stole ends are slanted, pointed, or an inverted V. The alb is a hybrid from the 1950s, the surplice fullness now is pleated as well as gathered, the tippet remains traditional. Clergy shirts with collars may be a subtle plaid, a stripe, and in a variety of colors.
Does your congregation have an ethnic component? With careful consideration, use an ethnic fabric for the vestment. Note that some Kente cloth designs are reserved for men of certain status within a community; be careful not to use these for vestments. Or, how about using hand-loomed fabric or a batik? For those of Scottish heritage, there is a clergy tartan. There are beautiful Guatemalan fabrics which can be used.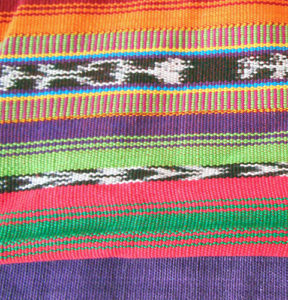 What fabrics are out there? As a liturgical artist, I prefer the fabrics we see on congregants: silks, cottons, wools; prints, plain, plaids and stripes, as well as plain weaves and even weaves. When choosing fabric, consider the climate where the vestment will be worn. Heavy brocade might be perfect in an unheated stone church, but totally overwhelming in the tropics.
As vestments are religious garments, some clergy prefer no symbols on them, leaving the fabric unadorned or using a simple pattern such as Seminole piecing. The stole is a symbol of ordination, the chasuble is only worn at the Eucharist, the tippet is used for the daily office or morning prayer; none of these need further adornment as they are symbols in and of themselves.
We of the 21st century are a visual people, with smart phones, iPads and computers, virtual reality, with much more to come. Let us bring the Christian artist into the church to do visual theology.
by Marilyn Doyle
* Click here for "History of Vestments I: Early Church to Middle Ages" and "History of Vestments II: English Reformation to the 21st Century".
About the author: Marylyn Doyle, an ordained minister in the United Church of Christ, taught textile art for 23 years at Union Theological Seminary in Dayton, Ohio. She has shared her vast knowledge of the history of vestments, as well as teaching embroidery and needlework in seminars across the country with all denominations.