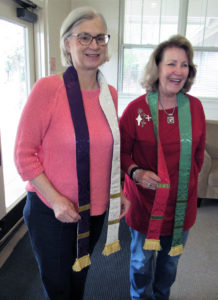 As the Service Ministries Chair for the National Altar Guild Association, I have had the wonderful privilege of working the last few months with The Right Reverent Carl Wright on designing the Military Chaplain's stoles. Bishop Wright serves in the Presiding Bishop's Office as Bishop Suffragan for Armed Services and Federal Ministries
We have an entirely new look. The new stoles are reversible. Each Chaplain will get two stoles. One will be purple on one side and white on the other. The second stole is red on one side and green on the other. The stoles are made of washable brocade fabric. Another feature is that they are shorter than the normal stole and they are narrow. This allows the stoles to be rolled up and stored in uniform pockets.
We do need volunteers to help sew these stoles. All that a person needs are basic sewing skills, a sewing machine, time and love. The materials will be provided in a kit along with detailed instructions. If you are interested in helping with this project, please contact me at:
Alice Scarbrough
12325 Fairway Cove, Austin, Texas 78732
512-472-3007
These stoles bring great comfort to the Chaplains that serve with our military as well as to the military men and women as they serve all over the world.
Alice Scarbrough, Service Ministries Chair & Mission Supply Coordinator