A Conference for Colorado DAGs
Altar guild members from across the Diocese of Colorado gathered together on September 14 in what was the first-in-a-very-long-time, if not the first-ever, gathering of altar guilds in this Diocese.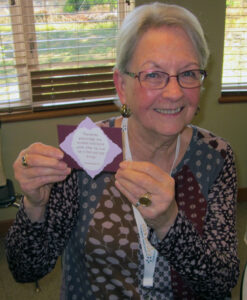 First, though, a little background. I am the head of the altar guild in Broomfield, Colorado, a group of about 20 women. In 2018, I was honored to receive a National Altar Guild Association scholarship to attend the Triennial General Convention in Austin, Texas. During my time in Austin, I enjoyed rich experiences of learning from and sharing with other altar guild members from across the country. Lynn Hendricks, then President of NAGA, was a strong proponent of gatherings at the local level because, as she observed, it is very expensive to attend General Convention.
When I returned to Colorado, I was eager to find out when and where local altar guilds gathered, not only so that I could continue the wonderful experiences such as those of General Convention, but also so that my local altar guild could enjoy the same. After about a week of phone calls, emails and web searches, I found that there was no such local activity. The wheels began to turn in my mind.
Next, I contacted Dianne Walters to see if she would be available to be a speaker if we presented a local conference here in Colorado. She said Yes! And the ball was rolling to hold a conference for altar guilds in Colorado. We applied for and received a grant from the Front Range Region of The Diocese of Colorado.
We chose the theme "Chasubles, Chalices & Christ" because we felt it accurately depicted the dealings of altar guilds and gave us some fun ideas with which to work. After much planning and preparation, and receiving registrations for over 70 people, representing 21 different churches, the big day was here. As everyone arrived and began to eat breakfast, you could feel the positive energy in the room.
We displayed several of our beautiful, retired chasubles made by the Episcopal Vestment Guild of Colorado. We participated in a beautiful and meaningful Eucharist and blessing of the hands service given by The Reverend Kim Seidman. If you have not had a blessing of the hands service for your altar guild, I highly recommend it. Mother Kim talked about how we can use our hands for a variety of things, thanking us for all we do as altar guilds. Coming out of the service, we all had an overwhelming feeling of how the work we do is so very important and sacred.
Dianne Walters gave a wonderful presentation on The Book of Common Prayer and discussed why we do what we do and the spiritual joys of being in altar guild.
Three members of the Holy Comforter altar guild, which represent three generations of the same family, shared their experience serving together as a family, which began when the youngest was only about 5 years old. They told of how serving on the altar guild as a family has enriched not only their spiritual life, but their family life as well. The youngest told the story of how she visited ancient church ruins on a recent trip to Ireland and saw the remnants of a piscina and actually knew what it was and how it was used. Pretty amazing for an 11 year-old! Wouldn't it be wonderful if we had more families serving together in the altar guild ministry?
Prior to the conference, Dianne had done a little investigation into how many altar guilds in Colorado were a part of NAGA and found out that I was the lone member of NAGA in the entire state of Colorado. Well, after Dianne and Marcia Himes, NAGA Province VI Representative, spoke to the group about the advantages of being a member of NAGA, they received several more memberships. And they will hopefully be receiving more in the near future.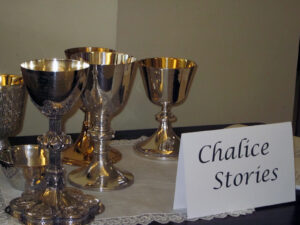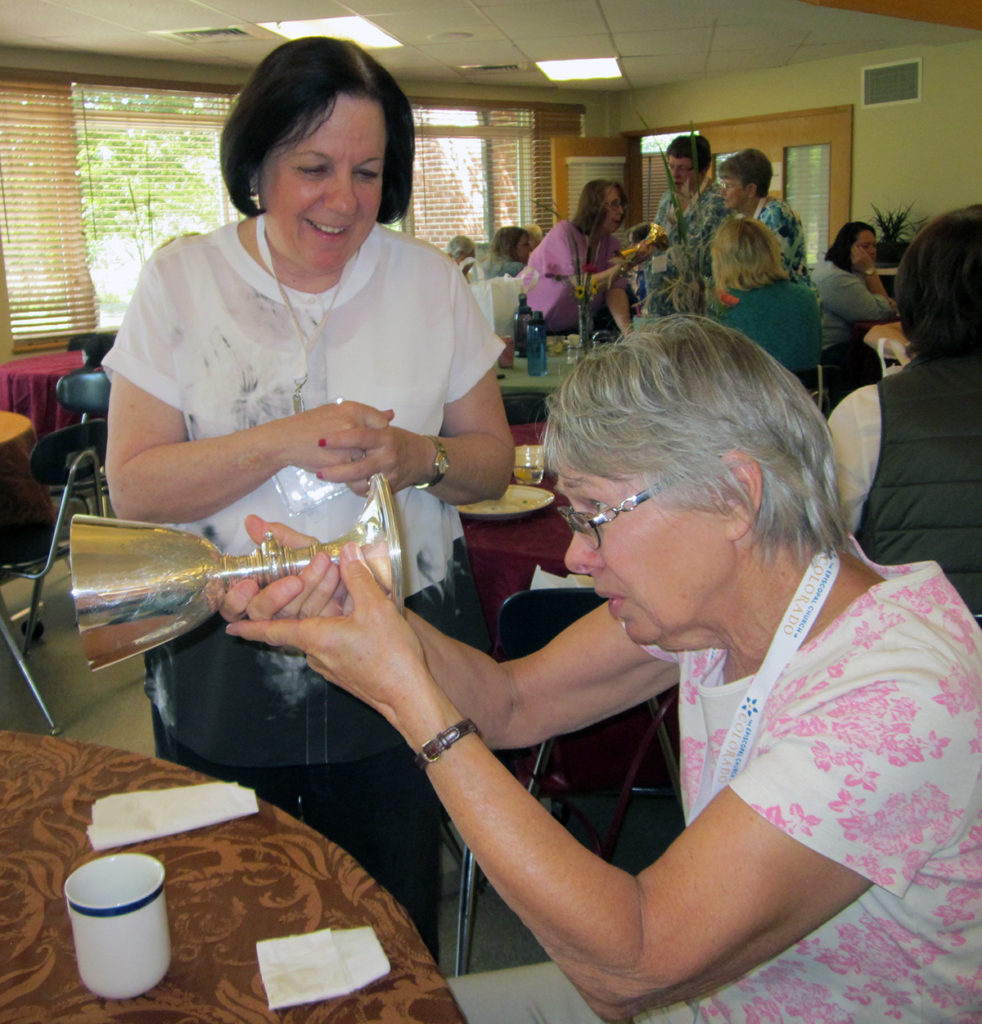 One of the loveliest segments of the day was the sharing of chalice stories. Altar guilds were asked to bring a favorite/cherished chalice with a story to go along with it. The stories ranged from historic significance to spirit-filled presence and imagery that only altar guilds have the privilege of seeing.
The first chalice presented was one that had a circular reflection that was discovered by an altar guilder performing her duties one Saturday morning. When she was placing the chalice on the altar, she noticed the perfect reflection of Jesus hanging on the cross above the altar in the curved bowl of the chalice.
One chalice was made of silver mined only in the state of Colorado, back in the silver-mining boom days. The purity of the old silver was obvious, because the polish achieved on that chalice was so brilliant and the chalice had an extremely intricate design.
Another chalice had been taken to the Holy Land on a pilgrimage and used to celebrate Eucharist at several places of Christian significance.
A woman lovingly held and told the story of a simple chalice that was gently offered to her as a "new" Christian to administer shared Eucharist. She shared that that one simple gesture of inclusion was the beginning of her journey into her ministry and strong commitment to her faith, which continues to this day.
As altar guilds, we have the privilege of handling sacred, historic items that have helped God's people share in Holy Eucharist for decades or perhaps centuries. When you partake in Holy Communion, do you realize that you are a part of a Heavenly Feast with all of the saints who have gone before us? Just think of how many generations before you have touched their lips to the same chalice that you are using.
All in all, it was a day full of joy, problem solving and realizing the beauty that we are all privileged to share in as a part of the altar guild ministry. We laughed and made connections with friends, both old and new.
Holy Comforter was able to put on the conference under budget and actually able to preserve a significant amount of seed money from our grant for next year's conference. At the end of the day, we had one, possibly two, area altar guilds that expressed an interest in hosting the conference next year. My prayer will be answered if a new tradition here in the Diocese of Colorado has begun. I hope that the word spreads and that more and more altar guilds are able to participate in the future, strengthening our altar guild bond throughout the state of Colorado.
~ Debbie Mead, Altar Guild Director, Holy Comforter Episcopal Church, Broomfield, Colorado