Jane Mercer, NAGA Representative
On October 26-27, 2019, to commemorate the first service in 1907, the Diocese of New Jerseyheld a festive weekend — "Hidden Treasures on the Mountain" — hosted at Church of St. John on the Mountain in Bernardsville, New Jersey.
"Heavenly Father, you have entrusted us with the vessels and adornments of your house. Of your mercy, grant that we may ever hold them in reverence and respect…" begins one of the altar guild prayers by Charles L. Wood. This theme guided the St. John's weekend, an event to study and celebrate our history and heritage.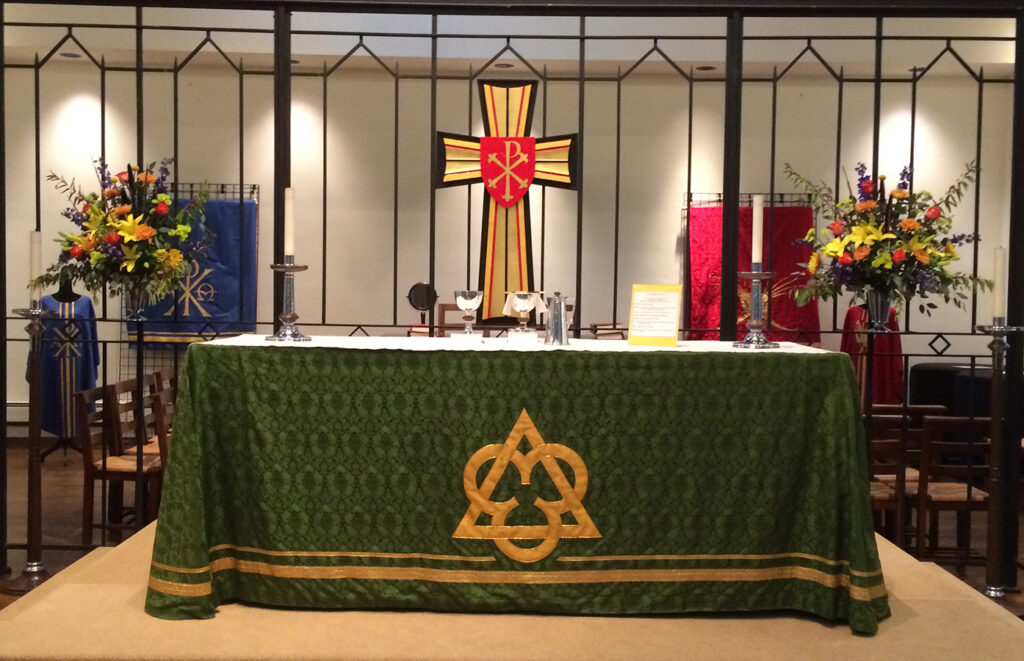 The church, chapel, parish house, and parish hall were open for afternoon touring with "treasures" displayed throughout. Research was done on all stained glass, silver, vestments, paintings, textiles, old Bibles and altar sets. Each object had a write-up to document its source and history. This undertaking provided an opportunity for us to learn about familiar surroundings and to connect to past generations who provided the space and furnishings of our worship and parish life.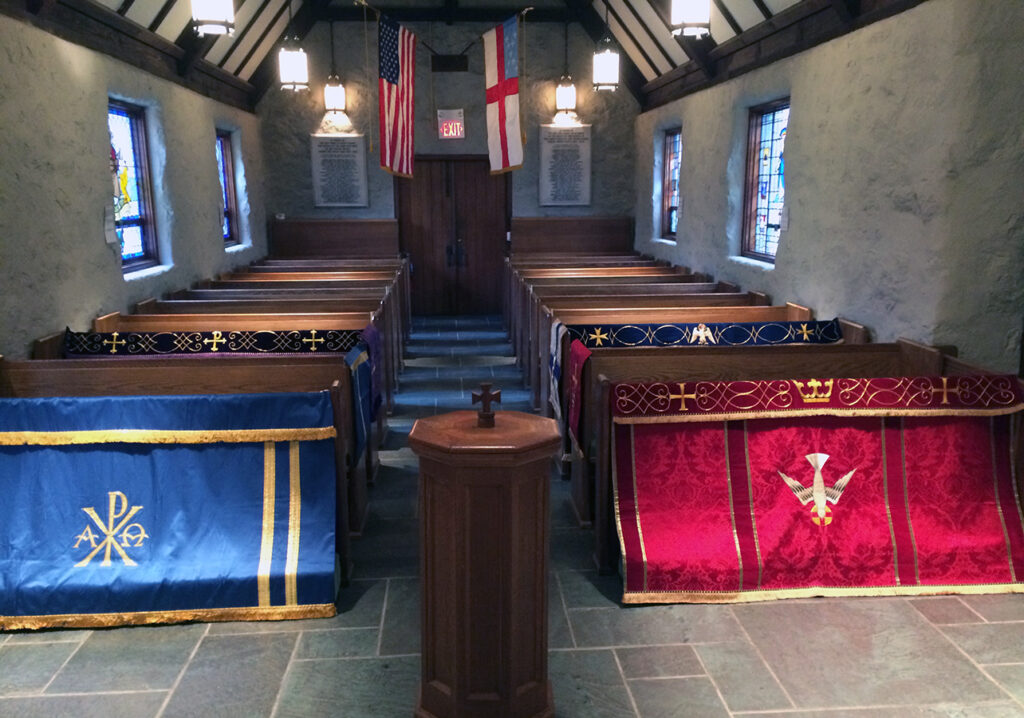 The buildings came alive with colors and exhibits. Pulpit falls and stoles from every liturgical season adorned the metal grids on the nave walls; various chasubles worn by mannequins added multiple colors to the Church; two frontals mounted against the back wall seen through the rood screen and the splendid altar flowers made a glorious sight.
Two experts joined us to enhance the weekend and our learning.
Bryan Marshall of J. Wippell and Company explained stained-glass window designs and symbolism and instructed those touring about many of the Wippell-sourced vestments and furnishings and shared his liturgical expertise. Bryan has been the U.S. representative for Wippell for 45 years. Most of the stained-glass windows at St. John's are J. Wippell designs, given by parishioners over the years.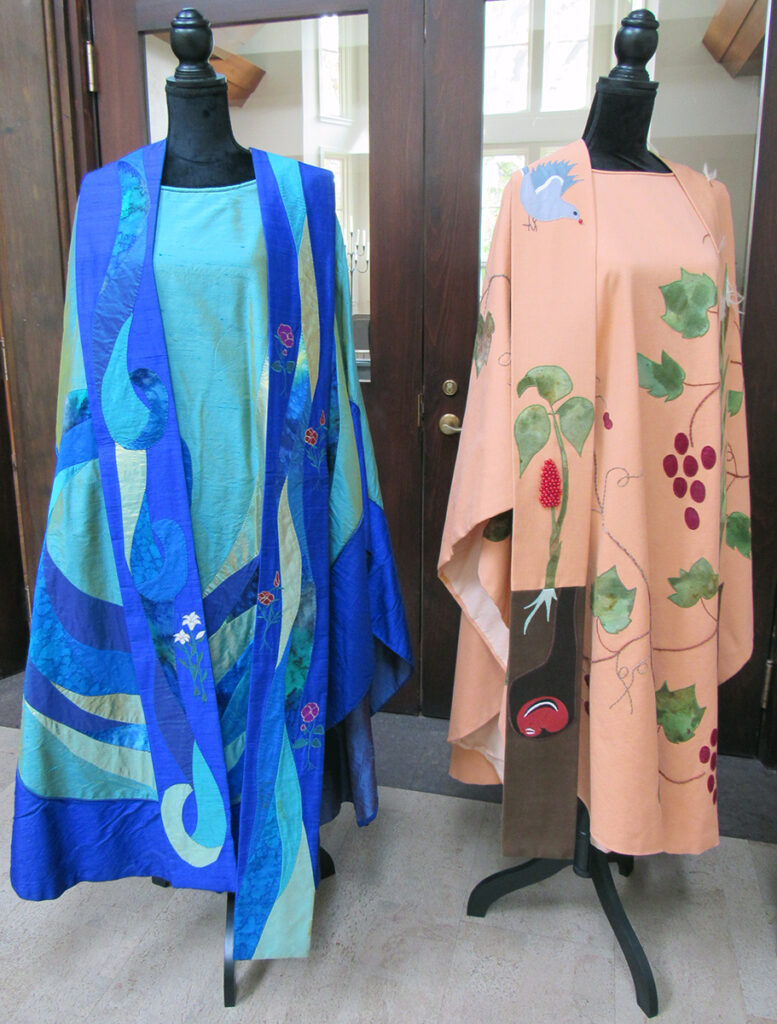 Colleen Hintz gave a presentation using chasubles and an altar set that she brought to describe her process of creativity. Colleen has been creating liturgical vestments since 1980. Her business website, Fruit of the Vine Vestments, shows the stunning cope and mitre she made for the Consecration Service of Bishop of the Diocese of Newark Carly Hughes last year.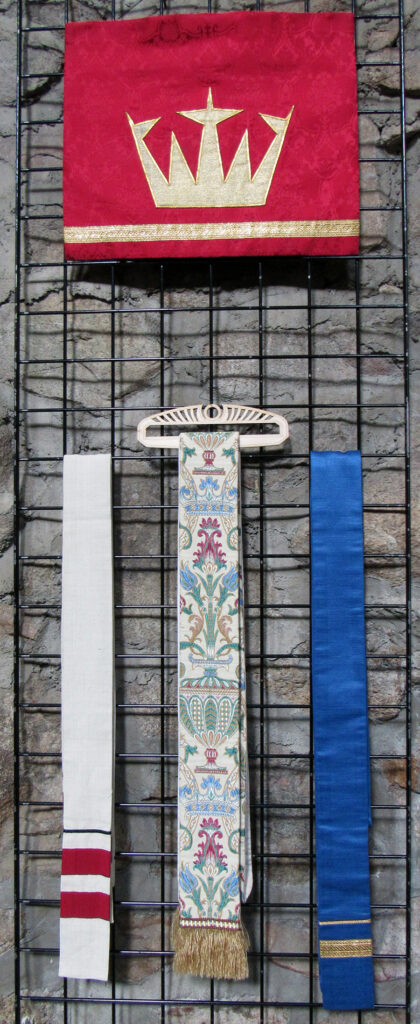 A hymn sing and festive reception on Saturday added to our spirit of thanksgiving. The Sunday service sermon by Rev. Dave Jones reinforced the "recognition of our history that we celebrate today…in a web of life that gathers all people in all the times of history into one forward moving story of God's love for this church and this world." This undertaking gave us a fresh look and appreciation of our heritage and a renewed commitment as stewards of these "treasures" for future generations.
The altar guild prayer continues… "and so handle them that our work may find acceptance in your sight; through Jesus Christ, our Savior."