Sarah Chesebro, NAGA Representative
In August of 2019, the leadership of Province VIII altar guild met at Mercy Center in Burlingame, California to develop a strategic plan to carry us forward into the new decade. Within the provincial organization we fall under the ministry of education and, thus, our overarching mission is education. However, we wanted to provide a clearer vision of our mission/purpose and goals for the next several years. I believe all strategic plans are living documents and this should be revisited within the next five years.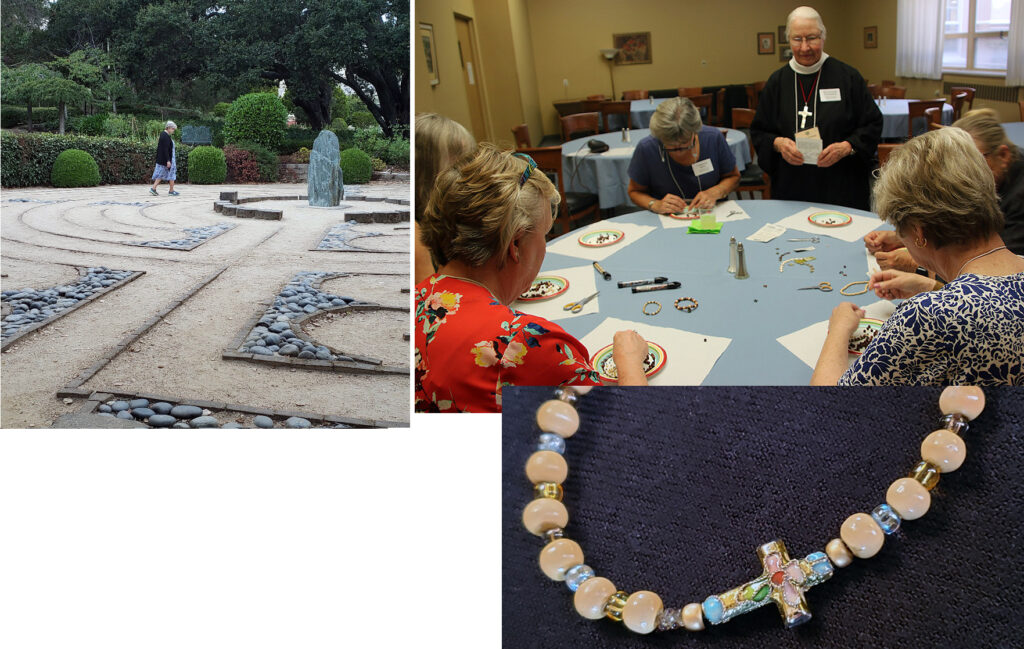 Our meeting was not all work. Sister Suzanne Elizabeth taught us to make and pray with prayer bracelets. We walked the lovely labyrinth at Mercy Center, enjoyed the beauty and peace of this haven within an urbanized area, and delighted in the culinary experience the Mercy Center chef created just for us. And, then of course there was the gift shop!
---
Province VII strategic planning work
Mission of the Altar Guild in Province VIII of The Episcopal Church
To support the ministry of congregational altar guilds within our Province (Members of any altar guild within Province VIII are considered members):
• to prepare holy spaces for worship
• to nurture our spirituality
• to equip us for the work God is calling us to do
Province VIII Altar Guild Goals
1. Reach all 900 parishes in the Province using large group e-mail programs such as Constant Contact or Mail Chimp.
2. Schedule a combined in person/digital meeting in 2020.
3. Update/Upgrade our Province VIII Altar Guild space on Province VIII website and expand it to include resources, meeting information, link to NAGA, etc.
4. Acknowledge diverse ethnic cultural practices of worship.
5. Through "The Way of Love," encourage and invite others to the church and the altar guild ministry.
Strategic Planning Committee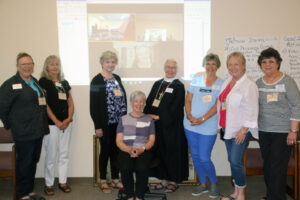 Committee members to formulate the strategic plan were selected based on previous involvement in Provincial altar guild events and by geographical representation. The following Dioceses were represented: California, El Camino Real, Oregon, Utah, Arizona, Spokane, and Olympia. A member of the Community of Saint John Baptist also joined us from New Jersey. Of the members, two are officers from the National Altar Guild Association. Two of the members joined us remotely via Zoom. Live video streaming was a first for a Province VIII altar guild meeting and was very successful. We will continue to provide this as an option for attending future Provincial meetings as we want to increase participation across the largest geographical Province in the Episcopal Church. This session was led by a professional facilitator from Mercy Center.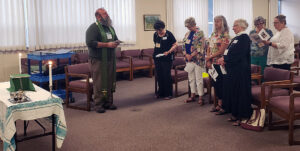 My thanks go out to all the strategic planning committee members for working so hard and taking their time to join me at Mercy Center, and to The Rev. Dr. Michael Barham for providing a Eucharistic Service and to the Province VIII executive committee for supporting this effort. A special thanks goes out to our facilitator, Mary Waskowiak, RSM. Without her, we could not have accomplished what we set out to do.
Province VIII Strategic Planning Committee:
(on screen) Sherry Garman, Diocese of Olympia
(back row from left to right) Jane Phillips, Diocese of California; Elizabeth Brackney, Diocese of Spokane; Donna Anderson, Diocese of Oregon and Second VP NAGA; Sister Suzanne Elizabeth, Diocese of Newark, Community of Saint John Baptist; Carolyn Roll, Diocese of Utah; Sarah Chesebro, Diocese of El Camino Real, President Province VIII Altar Guild and Albe Larsen, Diocese of California and VP NAGA
(seated) Mary Waskowiak, RSM, Mercy Center, Facilitator
(not shown) Constance Castillo, Diocese of Arizona