Report by Sherry Garman, Diocese of Olympia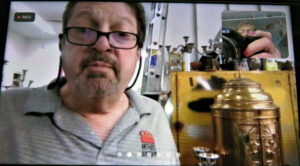 The National Altar Guild Association meeting had wonderful speakers including Mr. Tim Maple, owner of Omega Silversmithing, Inc. His presentation was informative and stimulating.
Mr. Maple took us on a wide-range tour of his store/shop near Snohomish, Washington, beginning at the front showcase. He pointed out several household items that had been repaired or were also for sale — a salt and pepper set, a candy dish, an antique calling card holder, and a Spanish sword. Moving into the workshop, the camera panned an assortment of vessels to be repaired — a teapot, a bowl, and a pair of candlesticks that needed the weighting material removed in order to repair dents. An adjacent area showed many of the tools that Tim uses, some of which are hand-hewn to do special tasks, like a rounded wooden piece on a handle for smoothing out dents. Tim described another collection of parts above him in a loft — pieces left over or gathered for fittings and missing parts, or for manufacturing a new part "from scratch."
This is not the first shop since Tim and his wife, Lupe, started their business 40 years ago. Our first meeting was in a Kirkland industrial area, as I was seeking another opinion to repair a silver piece for our Diocesan altar guild. Tim graciously explained how he had attended a Seattle school, apprenticed for nine years with another company, and then set out with Lupe to open a 'team effort." Tim became certified as a goldsmith and eventually they were featured on the Antiques Roadshow many times as consultants. Lupe had done numerous educational events over many years; sadly, she passed away just a few years ago. Tim circled past a wall hanging/collage of vessels in various stages of disrepair. His description of the vessels in apparent deplorable condition as they progressed across the collage was actually a visual of Biblical principles of salvation…"nothing is too hard for God to salvage!" (This hanging was made for Lupe.) Something made new was at the end of the sequence of vessels.
Being one of a few goldsmiths in our country, Tim has done appraisals and historical research for many clients. He held up antique napkin rings with individual figures atop each, made for members of a family. Showing and explaining silver makers marks and the fascinating history of how smiths all came to agreement on personal shop marks and dating codes followed. Tim brought out some of his volumes for identifying those makers marks in the last few years. His most memorable task was to verify and perhaps repair a life mask of Abraham Lincoln; the owner was not revealed (imagine the shipping arrangements).
An ornate golden tabernacle, for consecrated wine and bread storage, was behind Tim in our video. That piece, he explained, had been neglected, or not cleaned well, which resulted in corrosion down to the base metal. The process of "cleaning down" to eliminate the pitted surface would be complicated by the detailed relief of the door design. Then the re-gilding of the doors could take place. Next to that cabinet was a pair of matching chalices, each having different amounts of damage. Most commonly, silver fails during or after washing. Suggestions to prevent damage include removing rings while working with silver, using towels or rubber mats in the sink and on the counter, being sure all polishing material has been removed, and never submerging silver, as water can stay inside joints and cause damage later. He suggested we use warm soapy water (never boiling water, as was once taught, as this can cause silver to blister and cause joints to weaken).
Questions were submitted by way of chat:
What is the best polishing method? Use Hagarty Silver Foam and Cadie Polishing cloths; avoid any "quick dip" products and never use micro-fiber towels.
Best storage: Use silver protective cloth or cotton only for storage. Never store silver in plastic.
Can we send e-pics for repair estimates?Yes, take pictures from several angles and show the manufacturer's markings — sometimes on the bottom of a piece, but sometimes in other areas.
May we mail an item?Yes, with plenty of 'popcorn' packing at least 2" protection on all sides. Tim suggested that we should omit the word "Silversmith" in the address to reduce potential theft issues.