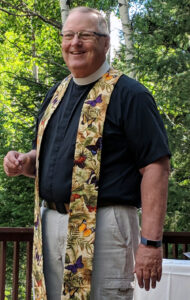 I come from a long line of pastors, mostly Presbyterian with an occasional Episcopalian to leaven the loaf. My maternal grandmother was given a recipe for communion bread during a time my grandfather served a congregation of recently arrived immigrants from Scotland. It has three ingredients: butter, sugar, and wheat flour. The bakers among you will immediately recognize this as the makings of traditional shortbread.
Shortbread was not the common food of poor Scottish farmers, for the ingredients were scarce and expensive. Their regular every-day bread was called bannock, a quite heavy and dense loaf of barley and oatmeal that was cooked on a stone or in a cast iron skillet over an open fire. However, when it came time to prepare for Holy Communion, each household would offer a pinch or two of sugar, flour, or butter to make a communal loaf of shortbread. Why? The answer passed down through my family is this, "Because we bring to the Lord the best we have."
This could be the unofficial motto of the altar guild. In a world of disposable cups and paper napkins, there are some traditions worth preserving. Does this approach take time, and care, and dedication? Of course, but the fruits of your labor become outward and visual signs of an inward and spiritual grace (BCP p 857). This is not through your good works, but rather through God's blessing of your humble and heartfelt offerings.
Your stewardship can, and frequently does, result in the experience of a sacramental life. While most of what you do as an altar guild member goes unseen, and sometimes even unappreciated, do not keep your light under a breadbasket. Remember, you never know when someone hungry for God will find the bread of life because you were there to point the way. "Let us with gladness present the offerings and oblations of our life and labor to the Lord." (BCP p. 377).
The Rev. Kelsey Hogue, a retired priest assisting at Holy Comforter Episcopal Church in Broomfield, Colorado
---
Scottish Bread
Preheat oven to 325o and line a baking sheet or tin with parchment paper. In a large bowl, blend 2 cups salted butter, softened, until smooth, about 30 seconds on medium. Add 1 cup sugar and mix until thoroughly incorporated. Add 3 cups wheat flour and mix on low until crumbly. Spread the dough in the baking sheet to a ¼" thickness. Bake for 15 to 20 minutes, until just done (avoid browning, except slightly around edge). Allow to cool for 5 minutes. Using the parchment paper, lift the dough out of the baking sheet. Cut and/or score holes in the dough using a fork. Let cool completely on a wire rack.